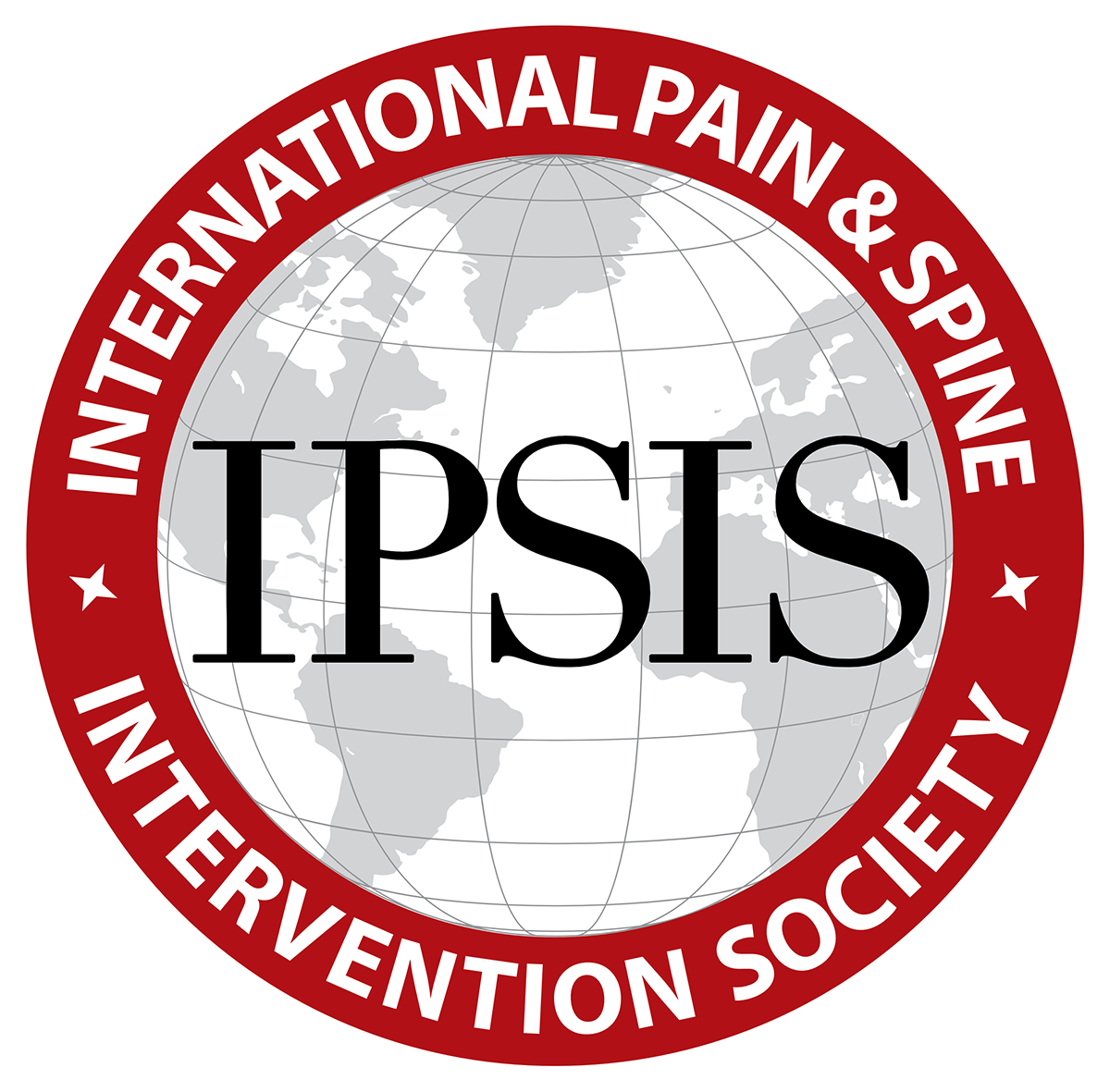 IPSIS 2020 Virtual Meeting - Expanding Your Interventional Practice
Register

Member - $399
In-Training Member - $149
Non-member - $949
Allied Health Professional - $299

---
Sessions Available for Streaming
Artificial Intelligence in Spine Care - Moderator: Joshua Rittenberg, MD

Redefining Value-Based Spine Care Through Artificial Intelligence - Thomas Mroz, MD
How Digital Biomarkers Will Revolutionize Spine Care - Matthew Smuck, MD
"Doctor, I Have a Pain in My Neck!": Evaluation of Cervical Pain Generators - Moderator: Lon J. Lutz, MD

The Role of Clinical Exam - Edvin Koshi, MD
Cervical Transforaminal vs. Interlaminar Injections - Lisa Huynh, MD
Imaging for Cervicogenic Headaches - Vinil Shah, MD
Facet Pain and Cervical Radiofrequency Neurotomy - Byron J. Schneider, MD
Emerging Technologies - Moderator: Vinil Shah, MD

Focused Ultrasound for Treatment of Spinal Pain Generators - Michael Gofeld, MD
FactFinders Presents - Moderator: Zachary L. McCormick, MD


Anticoagulants/Antiplatelets for Lumbar Medial Branch Radiofrequency Neurotomy - Clark C. Smith, MD, MPH
Antibiotics for Spinal Cord Stimulation - Ryan Mattie, MD
Antiplatelets for Lumbar Epidurals - David C. Miller, MD
Safety of Genicular Nerve Radiofrequency Ablation - Zachary L. McCormick, MD
Fluoroscopic Procedural Techniques and Contrast Spread Patterns: How to Stay Out of Trouble - Moderator: Milan P. Stojanovic

Transforaminal Flow Patterns: Epidural, Subarachnoid, Intradural, Intravascular - Greta B. Liebo, MD
Contralateral Oblique View: Its Utility and Efficacy in Interventional Spine Procedures - Michael B. Furman, MD, MS
A Proposed Nomenclature for Spine Location Reporting: A New Lexicon - Jatinder Gill, MD

"I'm Sorry" Works: Risk Management Strategies – When There Is a Post-Intervention Suboptimal Outcome - Moderator: Yakov Vorobeychik, MD, PhD

What To Do After a Maloccurrence - Michael B. Furman, MD,MS
Medical Error Disclosure - David M. Sibell, MD
Risk Mitigation and the Malpractice Process - Jeffrey Grass, Esq.
Imaging Session 1: Imaging Findings in Common Clinical Disease - Presenters: Felix E. Diehn, MD and Timothy Maus, MD
Imaging Session 2: Unusual Imaging Manifestations of Common Spinal Pathology - Presenters: Felix E. Diehn, MD and Timothy Maus, MD
Medical Marijuana in Spine Care: What You Need to Know - Moderator: David "D.J." Kennedy, MD

What Is Cannabis and How Does It Work in Chronic Pain? - Kasia Rothenberg, MD, PhD
The Side Effects and Risks - Marzena Buzanowska, MD
Legal Implications - Kush Goyal, MD
Orthobiologics in Musculoskeletal/Spine Medicine - Moderator: Scott Naftulin, DO

An Update - Wenchun Qu, MD, PhD
Peripheral Joint Pain: The Shoulder - Moderator: Ameet Nagpal, MD, MS, MEd

MRI and Ultrasound Anatomy - Rina Patel, MD
Treatment Algorithms - Maxim Echmann, MD
Interventional Treatment Options For Shoulder Pain - Ameet Nagpal, MD, MS, MEd

Procedure Coverage and Denials: Why Is My Procedure Not Covered by Insurance and What Can We Do? - Moderator: Scott Horn, DO

From Data to Digits to Dollars to Denials: The Path to Coverage - Scott Horn, DO
Can't We All Just Get Along? When Societies Don't Agree - D. Scott Kreiner, MD
Coding Quick Hit: Update 2020 - Coding Sacroiliac Joint and Genicular Nerve Procedures - Scott Horn, DO
Research Abstract Podium Presentations - Moderator: David Levi, MD

A Prospective, Randomized, Multi-Center Study of Intraosseous Basivertebral Nerve Ablation for the Treatment of Chronic Low Back Pain: 12 Month Results - Kevin Barrett, MD
A Prospective Randomized Comparative Trial of Targeted Steroid Injection Via Epidural Catheter Versus Standard Transforaminal Epidural Steroid Injection for the Treatment of Unilateral Cervical Radicular Pain: Six Month Results - Aaron Conger, DO
Surgery Prevention by Transforaminal Injection of Epidural Steroids for Cervical Radicular Pain (SPIES): A Randomized, Double-Blind, Controlled Trial - Minh Nguyen, MD, MPH
The Effectiveness of Spinal Cord Stimulation for the Treatment of Axial Spine Pain: A Systematic Review - Aaron Conger, DO
Does the Contrast Dispersion Pattern During Fluoroscopically-guided Cervical Transforaminal Epidural Steroid Injection Predict Pain and Functional Outcomes? A Secondary Analysis of Prospective Cohort Data - Cole Cheney, MD
The Effect of Low-dose Lidocaine on Objective Upper Extremity Strength and Immediate Pain Relief During Cervical Interlaminar Epidural Steroid Injection: A Randomized Controlled Trial - Taylor Burnham, DO
Normality of Numeric Rating Scale Pain Scores in Patients with Axial Spine Pain Before and After Medial Branch Blocks - Reza Ehsanian, MD, PhD
IPSIS/NASS Collaboration: Metabolism, Nutrition, Bone Health, and Fracture Considerations in Spine Care - Moderator: Alison Stout, DO

Obesity - Sanjog Pangarkar, MD
Nutrition Considerations - Carrie A. Diulus, MD
Bone Density - Allen S. Chen, MD, MPH
The Role of Vertebral Augmentation: An Update of the Evidence - D. Scott Kreiner, MD
IPSIS/NANS Collaborative Session: Neurostimulation - Moderator: Aaron Calodney, MD with Co-moderators: Fred DeFrancesch, MD and Rodney Jones, MD

Closed Loop Spinal Cord Stimulation - Nagy Mekhail, MD, PhD
Targeted Drug Delivery in Your Armamentarium for Treating Back Pain - Salim Hayek, MD
Advancement of Neuromodulation: The Evidence for Charge Density, SCS Parameters, and Waveforms - David Provenzano, MD
Spinal Cord Stimulation for Non-Surgical Back Pain - Adnan Al-Kaisy, MB ChB

Systematic Reviews - Moderator: Clark C. Smith, MD, MPH

Lumbar Medial Branch Radiofrequency Neurotomy - Lisa Doan, MD
Cervical Medial Branch Radiofrequency Neurotomy - Byron J. Schneider, MD
Top Research Abstract Presentations - Moderator: David Levi, MD

Best Resident Abstract: An Expanded Genicular Nerve Radiofrequency Ablation Protocol: A Prospective Pilot Study - Quinn Tate, MD
Best Fellow Abstract: What Does the Patient With Back Pain Want? A Comparison of Patient Expectations and Physician Assumptions - Kevin Barrette, MD
Best Basic Science Abstract: Precision and Accuracy of the Numeric Rating Scale When Benchmarked Against Patient Reported Reductions in Pain: A Basic Science Study on Measuring Pain - Byron J. Schneider, MD
Best Clinical Abstract: The Incidence of Ischemic and Hemorrhagic Complications Associated With Ceasing vs. Maintaining Anticoagulant and /or Antiplatelet Agents for Pain Interventions - Michael B. Furman, MD, MS
---
PDF Sessions Available for Download
Research Poster Presentations
Industry-Affiliated Research Poster Presentations (non-CME)

---
IPSIS 2020 Annual Meeting Program Committee
Chair: Vinil Shah, MD
Vice-Chair: Scott Naftulin, DO
Marzena Buzanowska, MD
Lisa Doan, MD
Scott Kreiner, MD
David C. Miller, MD
Ameet Nagpal, MD, MS, MEd
Jaymin Patel, MD
Byron J. Schneider, MD
Virtaj Singh, MD
Alison Stout, DO
Patricia Zheng, MD
Educational Objectives
Upon completion of this activity, participants should be able to:
Identify best practices to ensure patient safety during interventional pain procedures
Apply new research findings to the practice of ethical, evidence-based interventional pain care
Define important patient-centered outcome measures in practice settings
Disclosure Information
Disclosure information provided in the Program Book in the Biographies section.

References
References are provided within the speakers presentations.
Accreditation Statement
The International Pain & Spine Intervention Society (IPSIS) is accredited by the Accreditation Council for Continuing Medical Education to provide continuing medical education for physicians.
Credit Designation Statement
IPSIS designates this enduring material for a maximum of 18.25 AMA PRA Category 1 Credit(s)™. Physicians should claim only the credit commensurate with the extent of their participation in the activity.
Commercial Support
No commercial support was received for this activity.

Date of Activity Release: 8/3/2020
Date of Activity Expiration: 8/2/2023
Components visible upon registration.